Where You Can Find Free Prescriptions and Discounted Medications
Where You Can Find Free Prescriptions and Discounted Medications 
Life with a chronic illness or serious disease can be overwhelming, frustrating and financial devastating. 
This HypoGal Page provides where you can find free prescriptions and discounted medications. 
Please be aware that one size may not fit all your medical needs. I suggest you check numerous programs to best help you with your prescription costs. 
Here are some of suggestions on where you can find free prescriptions and discounted medications:
The Partnership for Prescription Assistance (PPA)

About The Partnership for Prescription Assistance Mission
PPA's mission is to increase awareness of patient assistance programs and boost enrollment of eligible individuals. They offer a single point of access to more than 475 public and private programs, including about 200 programs offered by biopharmaceutical companies. They have helped millions of Americans to get prescription drugs for free or at very low cost drugs.
There is Only One Partnership for Prescription Assistance (PPA)
Other companies may offer to connect consumers to these same assistance programs for a fee.
The Partnership for Prescription Assistance will help you find the program that fits your needs, free of charge.
The Partnership for Prescription Assistance will never ask for payment information.
Web Link to Partnership for Prescription Assistance.
GoodRX May Save You Thousands In Prescription Cost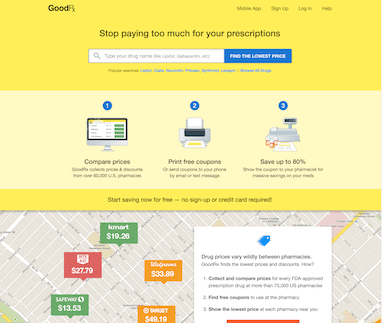 Medical cost are the leading cause of half of all bankruptcies. 
Unfortunately, many people are not able take their prescription medication.
The #1 reason Americans do not take their prescription medications is: COST.
Most people do not realize if they are not able to afford their medication the medication manufacturers offer assistance. If you do not qualify for an assistance program but need to save money on your prescription then GoodRX can help you.
GoodRX matches the prices of your medications with hundreds of suppliers and offers you the results.
GoodRX is able to offer this service because: Prices for prescription drugs vary widely between pharmacies.
The United States drug prices are neither fixed nor regulated. The cost of a prescription may differ by more than $100 between two pharmacies across the street from each other.
If you do not have insurance, it is easy to receive a better prices.
While prices for most drugs at pharmacies are very high for the uninsured patient, there are many ways to save 80% or more – coupons, savings tips, pharmacy or manufacturer discounts, cheaper alternative drugs, or just asking for a better price.
If you have insurance, your co-pay might not be the best price.
There are hundreds  of generic medications are available for $4 or even free without insurance. Your $10 co-pay does not sound so terrific when you can get the same drug for 60% less with GoodRx.
Plus, many plans have high deductibles or limited formularies that do not cover the drugs you need.
GoodRx is not a pharmacy.
GoodRX service is to provide you with comparison prices from local and online pharmacies.
Web Link to Good RX. 
Blink Health Is The Cure For High Prescription Costs
Incredible Prices on Generic Prescription Drugs Regardless of Your Insurance.
The Blink Health website states 50% of Drugs are $10 or Less.
Blink Health has found a way to help everyone sufficiently save on their prescription costs.
What Is Blink Health?
Blink Health is a brilliant concept of two brothers, Geoffrey Chaiken, and Matthew Chaiken.
These Blink Health founders realize there must be a way for average people to receive premium prescription discounts.
With the need for prescription discounts as their catalyst Blink Health sought to establish relationships with national and regional pharmacies.
Blink Health's business relationships with these companies allow their consumers to receive greatly reduced prescription costs.
Where Can Y0u Find Blink Health?
You can find Blink Health is an App.
Once, you download the App and you are ready to start receiving prescription discounts.
Does It Cost To Join Blink Health?
The Blink Health is a FREE Application.
Blink Health offers a $5.00 Coupon off your first transaction.
How Does Blink Health Work?
After you download the FREE Blink Health Application to your smart phone or tablet you are able to search your medications.
 A majority of the time Blink Health prescription costs will be less than your prescription plan. The Blink Health app enable you to find their best prescription costs for medications you take.
Blink Health works with dozens of recognized pharmacies such as Walmart, CVS, Walgreens and numerous independent pharmacies.
There is a high probability that your pharmacy accepts Blink Health.
What Prescription Medications Does Blink Health Cover?
Blink Health covers hundreds of prescriptions medication.
You can find the list of the prescription medication Blink Health offers, HERE.
I Found My Prescription Medication On The Blink Health Prescription List, Now What?
You can go ahead and purchase your medication.
Blink Health will issue you a receipt for your medication that you can redeem at any of Blink Health's network of pharmacies.
(Blink Health is the Groupon of Prescription Medications)
How Can Blink Health Offer Such Low Prescription Prices?
Blink Health groups patients together to leverage their purchase power. The large patient group secure significantly lower prices for medications.
Blink Health is also able to aggregate funds from employers, not-for-profits, and others to further lower patients' out-of-pocket expenses.
Should You Try Blink Health?
If you want to save money on your prescription costs then Blink Health may be a terrific resource.
Web Link to Blink Health.
COSTCO

If you do not have prescription medical coverage then a COSTCO membership can quickly pay for itself.
Click on the following link to purchase your Costco membership.
The Costco Member Prescription Program (CMPP) is a prescription savings program that is available to its members.  
The Costco Prescription Program enables Costco members who have no prescription drug insurance or whose insurance does not cover all of their prescription medication to benefit from Costco's business model.
Costco offers its members a commitment to value, quality and product confidence.
Passing prescription savings to their members is part of the Costco commitment.
The Costco Member Prescription Program is able to pass members savings by monitoring expenses, lower markups than most competitors, and passing  manufacturer discounts  back to their members.
How The Costco Prescription Program Works
Complete the Costco Prescription Program enrollment form and return it to your Costco pharmacist.
Here is the link to the Enrollment Form
The Costco Pharmacist will review your enrollment form and once your enrollment form is approved you will receive a Costco Prescription Card. 
The Costco Prescription Program does not pay or provide reimbursement for prescription medication purchases.
The CPP provides uninsured members access to lower prices for all prescription drugs.
There is no additional charge for Costco members to participate in the Costco Prescription Medication Program.
The Costco Prescription Program is NOT insurance.
The prescription program is a value added benefit of Costco membership. 
The following chart is an example of some of the money savings from Costco's Prescription Program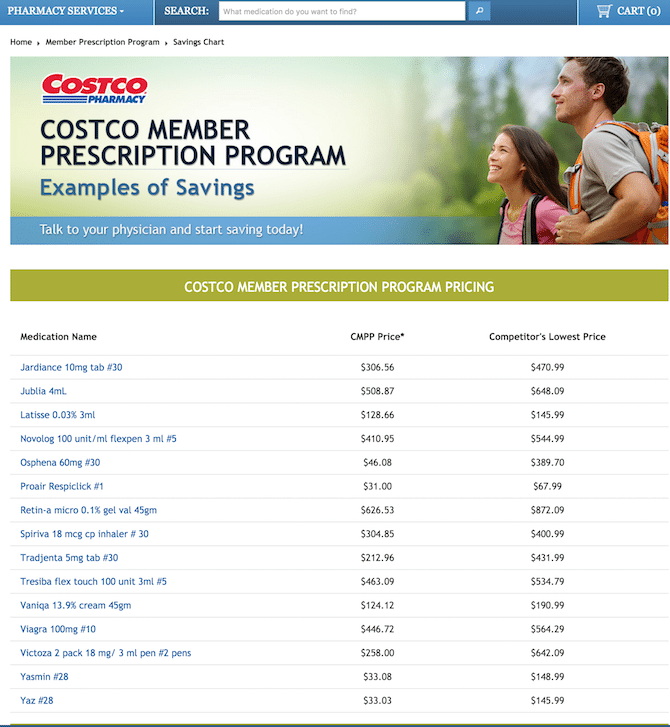 Please note: 
Enrollment in the Costco Prescription Program is open to Costco members and their dependents who do not have prescription drug coverage available.
Anyone receiving benefits from a publicly funded health care program, such as Medicare or Medicaid, is not eligible to participate in Costco's Prescription Program.
Needy Meds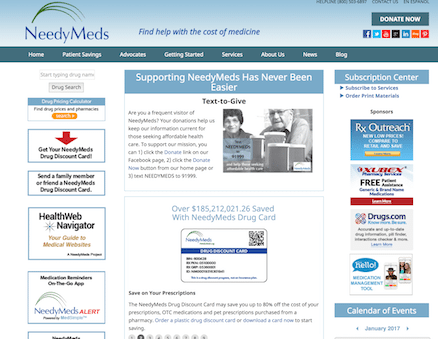 The following Mission Statement is from the Patient Assistance Program/NeedyMeds
Mission Statement: NeedyMeds educates and empowers those seeking affordable healthcare.
How we offer savings:
NeedyMeds, a national non-profit, achieves its mission by providing information on health care programs, offering direct assistance and facilitating programs.
NeedyMeds is a national non-profit organization that maintains a website of free information on programs that help people who cannot afford medications and healthcare costs.
More than 1.3 million patients, family members, healthcare professionals, social workers and patient advocates use the NeedyMeds website each year.
NeedyMeds regularly updates data on over 9,000 assistance programs, 15,000 free/low-cost/sliding scale clinics and nearly 1,500 drug discount coupons.
They also publish information about resources for specific diseases.
All of NeedyMeds information is accessible online, at no charge and without registration.
NeedyMeds provides a free drug discount card that offers a discount of up to 80% at more than 65,000 pharmacies nationwide.
Anyone can use the card regardless of income level or insurance status and no registration is required.
The same card can be used by friends and family members to save on prescription drugs, over-the-counter drugs and medical supplies written on a prescription form, and pet prescription drugs purchased at a pharmacy.
Web Link for NeedyMeds.
Patient Services Inc. (PSI)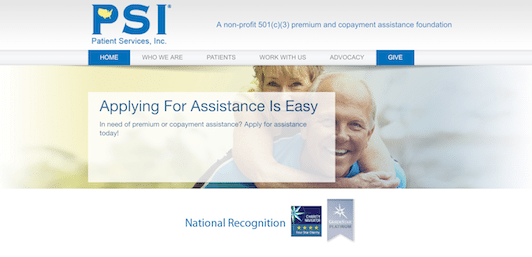 Patient Services, Inc. Mission Statement: PSI helps chronically ill patients with unaffordable medical expenses.
Patient Services, Inc. (PSI) is the "ground breaking" 501(c)(3) non-profit, charitable organization.
Since 1989 Patient Services, Inc has led the charge to provide much needed patient assistance, soliciting donations to fund thousands of patients and their families that battle the effects of living with a chronic disease.
Over two decades ago, Patient Services, Inc. recognized the importance of providing a "safety net" for patients with chronic illnesses.
Many chronically ill people struggle to keep up with expensive premiums and copayments.
How To Apply For Patient Services, Inc. Assistance
Patient Services, Inc. has a quick online application that is user friendly and easy to complete.
You can click on the following link to apply; Apply For Patient Services
Web link to Patient Services Inc. 
Government Programs for Free Prescriptions and Discounted Medication
SPAP State Prescription Program

Numerous states offer the State Pharmaceutical Assistance Program (SPAP).
The SPAP program helps their residents pay for prescription drugs.
Each state program works differently.
A majority of State Pharmaceutical Assistance Programs coordinate theirs with Medicare's drug benefit (Part D).
If you do not have Part D but qualify for your state's SPAP, you will have the chance to sign up for Part D, and may be required to enroll in a Part D plan.
If a drug is covered by both your SPAP and your Part D plan, both what you pay for your prescriptions plus what the SPAP pays will count toward your out-of-pocket maximum Medicare drug costs.
Your SPAP program may also help pay for your Medicare Part D plan's: premium; deductible; copayments; and/or coverage gap.
Some states that offer the SPAP program will give you coverage during the donut hole or coverage gap of your Medicare Part D plan.
The following link will allow you to find out if your state participates in the State Pharmaceutical Assistance Program. If your state does participate then you will be able to find your state's contact information and application program. 
Medicare Extra Help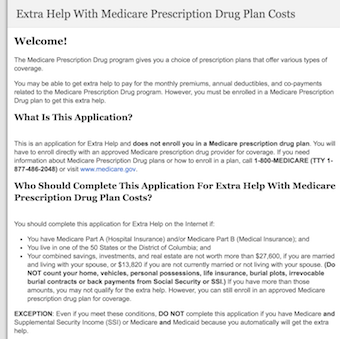 If you have Medicare and you have limited income and resources, you may qualify for MedicareExtra Help.
Medicare Extra Help assist in your prescription drug costs if: Your income is less than $17,820 if single and $24,030 if married. If you live in Alaska or Hawaii, you may still get help even if your income is higher than these limits.
Your financial resources are less than $13,640 if single and $27,250 if married.
Extra Help considers income such as wages, earnings from self-employment, Social Security benefits and pension payments in determining eligibility for Extra Help.
Examples of income that does not count include income tax refunds and housing assistance.
Examples of assets that count toward determining eligibility for Extra Help include stocks, bonds, and savings bonds.
The home you live in and the land it is on, family heirlooms, wedding or engagement rings, and life insurance policies do not count as assets.
Why You Should Apply for Medicare Extra Help
If you meet the Extra Help guidelines then you will have low or no deductible on your prescription medications.
In addition, you may not have to pay premiums and you may be covered for the doughnut hole or cap coverage. 
About one-third of all Medicare beneficiaries are likely to be eligible for Medicare, Extra Help Low-Income Subsidy.
The Social Security Administration estimates that Medicare Extra Help could be worth an average of $4,000 per year.
All seniors or individuals on permanent disability who think they might be eligible for Extra Help to apply for this valuable assistance with their drug expenses.
Web Link to Medicare Extra Help Application. 
I hope this HypoGal Post- Where You Can Find Prescriptions and Discounted Medications has been helpful.
If you are aware of a Prescription or Medication Discount Program that would help HypoGal's readers then please email me at Lisa@HypoGal.com.
Below is My Story, How Becoming A New Mom Almost Killed Me.
CLICK, "HERE" TO BUY THIS BOOK
How Becoming A New Mom Almost Killed Me is a short story of my journey to find a medical diagnosis for my symptoms. Numerous doctors told me my symptoms were all in my head. I had a clear case of postpartum depression.
If I would have not trusted my gut instincts, my story would not be told, and my children would have lost their mother. 
This mini book also includes a BONUS.
The BONUS includes over 50 different Government Resources web links.
The BONUS Section was created from HypoGal's audience need.
She realizes there are resources available to help those with chronic illnesses, low incomes and prescription medication needs. However, these Government Resources are not always easy to find, especially when you are ill.
This book, How Becoming A New Mom Almost Killed Me, comes with a mini price tag of only 99 cents. 
Please help HypoGal play it forward by purchasing How Becoming A New Mom Almost Killed Me. 
Many Thanks,
Lisa a.k.a. HypoGal
Please, Like, HypoGal on Facebook. 
Where To Find Free Prescriptions and Discounted Medication Resource:
http://www.forbes.com/sites/aroy/2011/03/08/new-study-romneycare-had-insignificant-impact-on-medical-bankruptcies
https://www.benefitscheckup.org/medicare-rx-extra-help-application-welcome/
http://patientservicesinc.org/Patients/Co-payment-Programs